Category Archives:
Latest News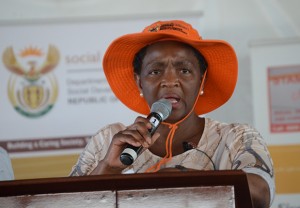 Social Development Minister Bathabile Dlamini has urged men who are unemployed, earning too little or for whatever reason cannot afford to look after children under their care not to shy away from applying for child support grants.
All children are eligible for the state social support grant depending on the income and national status of their parent or primary caregiver.
Since last month, to qualify for the grant, a single parent or caregiver must earn R3 200 or less per month.
A married couple must jointly earn R6 400 or less per month.
To be eligible for this grant, the parent or primary caregiver must be a South African citizen or a permanent resident or a refugee.
Men have generally shied away from applying for the grant for their children.
In some instances men have found it difficult to provide documentary evidence to support their applications when, for example, the father's name is not included on the child's birth certificate.
"Men can register their children for social grants too and of late we are even including them on the birth certificates of their children, unless of course they are those runaway fathers," Dlamini said at a community imbizo in the Matjhabeng Local Municipality over the weekend.
The meeting was also attended Premier Ace Magashule and members of his provincial cabinet.
Meanwhile, the minister said her department had taken a principled stance to exclusively buy from local co-operatives school uniforms that it buys for needy children as well as the vegetables used in the government's school feeding schemes.
"If young people around here can start vegetable gardens and tend them well, we will certainly buy from them," Dlamini said.
"This same applies for women too – form co-operatives and make sure you produce quality products, and we will use your services."