Police business fight against crime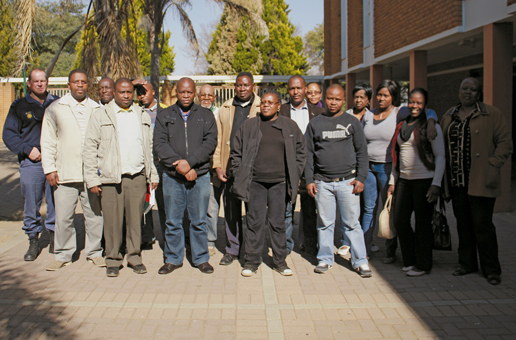 Thabong business people met with the South African Police Service (SAPS) management last week to demand tough police action against rampant crime in the township.
One of the organisers of the meeting and owner of Mthimkhulu Bottle Store and Radebe Transport, Steve Radebe, said business people in the area had convened the meeting because they were concerned with the spate of violent crime and robberies that are affecting a majority of businesses in the Welkom township.
"We are business people trying to make a living and to contribute to the growth of the economy of the country, but criminals are targeting us. Two weeks ago five criminals walked into our house and hit my mother with a firearm on the head and robbed us of cash amounting to R75 000."
Radebe said the robbery has had an adverse effect on his business. He is now struggling to pay some of his suppliers and insurance companies have decided to classify him as a high risk client subsequently increasing his monthly premiums.
"I am a victim just like many other local business people who find themselves in my situation. Unless we stand together to fight the scourge of crime in our community, our businesses are in great danger of collapsing. We must come together to help each other to fight crime."
Police has pledged to work with business owners to fight robberies and break-ins that have affected them.
"Our aim as the SAPS is to be trusted by the business people of Thabong; we are willing to work together with the community towards the common goal of decreasing robberies and burglaries of businesses," said Captain Riaan Fouche, of the Thabong SAPS.
He called on business people to report crime promptly to the police to ensure speedy resolution of cases.
"I admit as a police officer that there is corruption among some of my colleagues who collude with criminals. But that must not stop you from reporting your cases because justice needs to be done in our country. Not all of us police officers are corrupt; all we need is the community's cooperation in order to investigate and gather information we need to facilitate successful prosecution of criminals.
"We must take the responsibility of reducing crime by coming up with solutions to defeat it. We do understand the terrible emotions victims are going through, especially when you are trying to stand up and fight unemployment by becoming your own boss," added Fouche.
Fouche said crime statistics in the area showed a drastic increase in 2013 compared to the previous years. He said criminals targets mostly foreign owned businesses. He said police are deploying more physical and human resources to clamp down on businesses robberies and burglaries in the area. According to Fouche, Thabong police officers are meeting the community tomorrow in Putswastene to discuss the crime situation in the township.