Matjhabeng awards best local businesses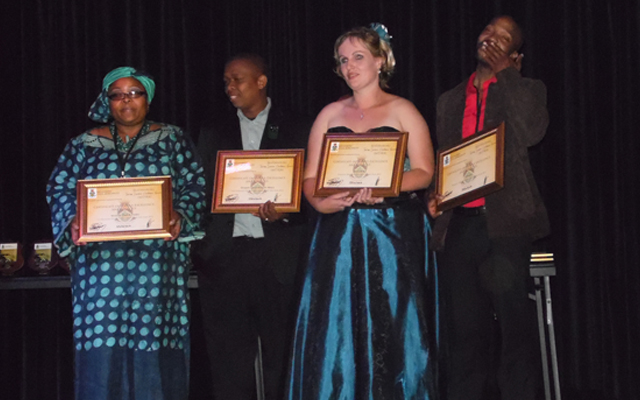 The Matjhabeng Local Municipality's held the fourth annual Service Excellence awards to encourage competition and productivity among local businesses.
This year Thusanang Basadi Wool Manufacturing cooperative walked away with the award in the best arts and culture category, the best petrol station in Matjhabeng Local Municipality went to EMS Motors (Caltex), the best accommodation in the region went to Bonjun Ekasi Guest House, and Ocean Basket was crowned the best restaurant.
The lavish event honoured businesses in the Matjhabeng Local Municipality that have delivered the best services to the community and tourists during the year.
Some of Matjhabeng's prominent business people joined the executive mayor, Sebenzile Ngangelizwe, to hand over the prestigious awards.
"As we are striving to make Matjhabeng Local Municipality a tourist hub, we are very proud to see how this event has grown and the amount of business people that are supporting and participating each year.
"The Matjhabeng Service of Excellence Awards seeks to promote the involvement of local communities and previously neglected groups in tourism. With the celebrations of Tourism Month, we also aim to promote tourism education, training and awareness to small businesses. But our main aim with this ceremony is to promote local heritage," said Ngangelizwe.
The ceremony forms part of the municipality's September tourism and heritage celebrations organised by the department of local economic development. The awards are open to all the businesses in the area and are made up of four categories; arts and culture, petrol station, accommodation and restaurants.
The Goldfields centre manager, Tanya Lloyd, said it was important for the private sector to partner with government for the benefit of the community. She said the Goldfields Mall was very excited to join hands with the Matjhabeng Local Municipality in recognising business excellence in the region.
Every year the municipality, the Goldfields Mall and other stakeholders join hands to bring an enriching tourism and heritage experience to the community of Matjhabeng.
Ocean Basket general manager, John Molaoli, said the restaurant's recipe for success is excellent customer service, quality and cleanliness.
"As Ocean Basket, we are very proud and humbled to have been crowned the best restaurant in the municipality. We support the municipality with their goal to make the area a tourist attraction and believe that it can be made possible because we have a lot to offer to the world."