Matjhabeng host human settlements Indaba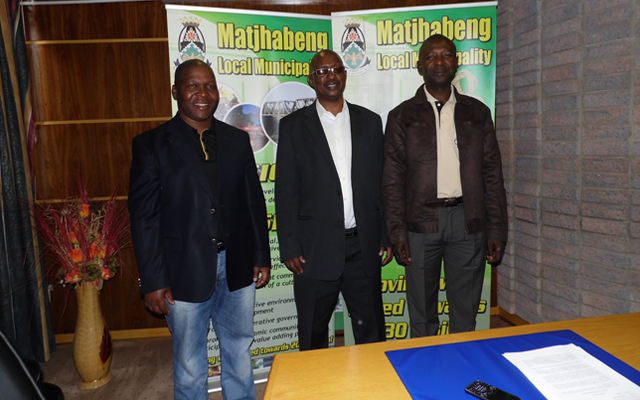 The national department of human settlements has set aside R150-million to build houses in towns falling under the Matjhabeng Local Municipality.
"Approximately R1.1-billion in this year's budget speech, has been set aside to address housing challenges faced by people living in mining towns in the country, and as a mining town, R150-million has been set aside for the Matjhabeng Local Municipality Human Settlements Developments," said chief director of the national department of human settlements, Julie Bayat.
Bayat, the Minister of Human Settlements, Connie September; the executive mayor of the Lejweleputswa District Municipality, Mathabo Leeto; and prominent business people in the Free State attended a two day Human Settlements Indaba to accelerate sustainable integrated human settlements in Matjhabeng, which was hosted by the Matjhabeng Local Municipality this week.
Bayat said the department is implementing a policy directive given by President Jacob Zuma during his 2013/14 state of the Nation address.
"The money had been set aside for the upgrading of 15 159 informal settlement sites as well as the erection of 9 755 new units across the country's mining towns. The project is a joint effort in partnership with other departments such as the department of mineral resources, cooperative governance, labour as well as provincial human settlement departments."
The executive mayor of the Matjhabeng Local Municipality, Sebenzile Ngangelizwe, said the indaba sought to find solutions to a variety of housing challenges including the recent illegal occupation of land between Welkom and Riebeeckstad.
"The objective of the Indaba will be amongst others to share with key interest groupings and individuals the municipality's proposed plan on integrated human settlement and to lay the basis for the municipality to forge strategic partnerships with primary role players in the human settlement sector to enable the municipality to drive social and community development in its area of jurisdiction and to attract investment and contribute towards reviving the local economy.
"We are going to present to strategic partners our current and future plans regarding human settlements and planning specific focus on marketing potential land for business and residential development. Our plan will also accommodate finance linked individual subsidies, rental housing for low income earners and social housing: middle and high earners," said Ngangelizwe.
According to Ngangelizwe, since 1996 banks were reluctant to finance houses in the area.
"This has changed. We will know which areas are available for development. We also want to stimulate economic growth in the municipality."
He said a hostel with 300 beds is going to be built at the Welkom Campus of the Central University of Technology (CUT) in 2014.
Leeto hailed the Indaba was the first of its kind to be hosted in the Free State and praised the Matjhabeng Local Municipality for a pro-active approach instead of a reactive approach towards tackling housing challenges in the area.
"We are celebrating 20 years of democracy next year and we need to acknowledge that there has been significant improvement in service delivery. I am proud to be part of the Indaba. It means that different departments should start working together and implement together in order to get better results. Government should also create bylaws to restrict land invasion within municipalities."